News archive (20)

News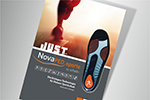 05.11.2013
NovaPED sports - Further development of the sport shoe insoles product line
Every sport has its own way of moving and its own set of strains. Due to the constant shifting of forces, there is a risk that the hips, knees or, in particular, the feet will be subjected to too much stress.

In order to reduce excess stress, relieve previously damaged structures and improve movement, we have developed our successful NovaPED sports insole models further. The newest findings from sports medicine were put to use in the design. Each model also has a new, stylish design. The high-quality synthetic blanks were produced using proven foil technology. Each model is adapted to a particular sport and contains specific padding and support elements. Our NovaPED sports insets are also characterised by their low height and high level of comfort.

The new prospectus will be available soon.