Dates
Montabaur
11. - 12.09.2015
Vertiefungs-Seminar Fußdiagnostik
Sign up
Remscheid
18. - 19.09.2015
14. schein Seminar
Sign up
Frankfurt a. M.
23.09.2015
Vertiefungs-Seminar Ganganalyse II
Sign up
Augsburg
25.09.2015
Workshop Taping - untere Extremität
Sign up
Rottenburg
26. - 27.09.2015
Ruckgaber Brüggemann Hausmesse
Remscheid
07.10.2015
Workshop SCHEINWORKS construction
Sign up
Augsburg
09.10.2015
Basis-Seminar Anatomiekurs
Sign up
Köln
23. - 24.10.2015
OST Messe
Köln
04.11.2015
Basis-Seminar Sensomotorik
Sign up
Stuttgart
08. - 09.11.2015
Workshop Spiraldynamik - Der Fuß
Sign up
News archive (34)

News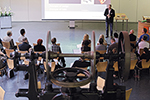 07.07.2015
5th international seminar at schein
We are pleased to invite you for the fifth time to our seminar at schein in our headquarter in Remscheid.
The seminar will take place from Friday till Saturday. Personal exchange, time for individual conversations and the possibility to see our production, will be perceived as a way to become more familiar with our product range. The focus of our two-day event is on the individual and qualified lectures in English language. Please take a look into our agenda.

For registration please use our online form
schein.de/en/seminar

We would be pleased if we could welcome many of you on October 30th, 2015 in Germany!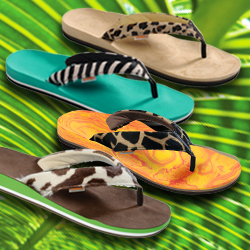 07.07.2015
Wild times at novaPED exclusive
All of you know and like the leathers in "zebra" or "leopard" print in the NovaPED exclusive configurator.

Therefore we expanded our "animal edition" with two more leathers: Now available in our configurator are the codes W33 and W34 with the design of "Giraffe, brown and black" and "Cow, white and brown".

Not only on the feet, also in the shop window or presented on our NovaPED exclusive pillar - they are in any case an eye-catcher.

www.schein-exclusive.de

12.05.2015
my generation 2 - Now with its own "my design" shoe configurator
Every single model in our my generation range of therapy shoes offers outstanding quality, top-class leather and materials, along with painstaking attention to detail.

For our new "my generation" collection of therapeutic shoes we have oriented ourselves closely to the latest fashions, trends and colours. The result is a varied collection of cheerfully coloured children's shoes, cool chucks with studs and glittery laces, alongside proven models featuring more restrained colours. You'll find our complete selection over the 96 pages of our new "my generation 2" catalogue.

The printing of our catalogues is CO2-certified. This means that the emissions, most of which are caused by the paper manufacturing process, are 100% offset through our support for environmentally friendly projects in Germany.

www.mygeneration-schein.de

However, if you cannot find a particular colour or type of leather for a given shoe you can try it out for yourself by becoming your own designer on our new "my design" shoe configurator.

From the soles to the shoelaces, you can choose every component individually, thus producing your own unique my design creation!

To try it out for yourself go to:

www.mydesign-schein.de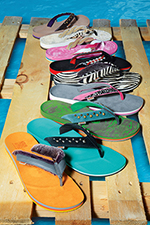 12.05.2015
NovaPED exclusive - New colours and extras
Just in time for the warmer weather we've come up with plenty of novelties for you and your customers in our range of NovaPED exclusive flip-flops.

Why not take a look at www.novaped-exclusive.de and combine our new extras directly:
Studs: laid back, cool, rock and roll: our new extra studs in either silver or antique finish are always good for a fashionable look.
Stylish uppers: combine the two leathers of your choice into a single upper, thus creating a whole new effect.
New ARU batik outsoles: these batik materials are among our top sellers, so we've added two new colours - we wish you lots of fun combining them.

www.novaped-exclusive.de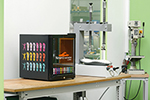 12.05.2015
Cool summer with NovaPED exclusive
You all know our NovaPED exclusive flip-flops: an individually tailored global design which appeals to customers as a high-quality product providing perfectly fitting support while walking and satisfying individual customer tastes.

Today we're supplying you with attractive advertising material to serve as a great summer eye-catcher for your customers. Ideal for placing in the waiting area for your customers or simply as a drinks dispenser for your workshop:

The drinks cool box, featuring attractive NovaPED exclusive advertising, or the mini fridge, also displaying a cool NovaPED exclusive design, are guaranteed to grab attention. Don't miss our Cool Summer campaign: just get in touch with us!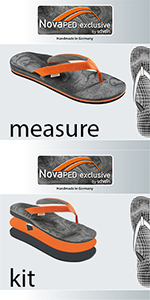 12.05.2015
New functions and design aids
Designing personalised individual versions of our NovaPED exclusive flip-flops via our SCHEINWORKS construction design programme is becoming ever more popular. Now, to offer you and your customers even more individuality in future, we've decided to expand the SCHEINWORKS construction programme. From now on we're offering you two design areas for NovaPED exclusive:

1. NovaPED exclusive measure:
• design of an individual, comfortable wellness footbed
• moderately adjustable design elements while design process remains unaltered
• available as a construction kit or finished model offered in three widths

2. NovaPED exclusive kit:
• design of an individual footbed
• unaltered design process with option of incorporating orthopaedic elements
• only available as a construction kit

Details of the strap width and illustration of the design have been added to the combination. Feel free to take a look at:
construction.scheinworks.de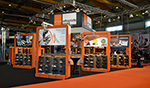 12.05.2015
EXPOLIFE 2015 - Visitor numbers up for anniversary
Over the three days of the trade fair a total of 7,784 visitors came to Kassel: that's three per cent up on the figure for the previous staging of the event in 2013. On the 17,000 m2 space 266 the products on display came from companies operating in the truss and support bandage, homecare, medical technology, mobility and daily help, phlebology, rehabilitation technology, prosthetics, health care supply store, orthotics, orthopaedics and orthopaedic shoe technology segments. Trade visitors were thus able to gain a comprehensive view of the various novelties and innovative solutions now on offer. EXPOLIFE provides vital impetus for all those involved in the specialist health-care business.

We would like to thank the organisers for their excellent running of the event and our visitors for some enjoyable discussions and the interest shown in our products and innovations.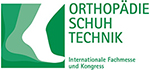 12.05.2015
OST Trade Fair, 23-24 October 2015
At the Orthopaedic Shoe Technology European Trade Fair and Congress visitors can expect a wide-ranging overview of matters relating to the foot and shoe. All major industry providers are represented at the trade fair, along with representatives from the field of podiatry and associated service companies. The content ranges from materials to aids and appliances, mechanical engineering, new measurement and production technologies, as well as comfort shoes.

The accompanying congress provides an opportunity to gain new insights into solutions for familiar foot problems. During the congress insole provision, the subtalar joint, the treatment of forefoot complaints and osteoarthritis are discussed not just from a theoretical scientific but from a strongly practically oriented viewpoint. Meanwhile, outside the exhibition centre the city of Cologne is always worth a visit.

We shall be exhibiting our products and innovations on a collective stand in Hall 4.2.