Dates
Augsburg
10.10.2014
Workshop Anatomiekurs "Der Fuß"
Sign up
Remscheid
15.10.2014
Workshop SCHEINWORKS construction
Sign up
Remscheid
16.10.2014
Workshop SCHEINWORKS construction
Sign up
Germering
17. - 18.10.2014
Bayerischer Sportärztekongress
Augsburg
05. - 06.11.2014
Workshop Spiraldynamik
Sign up
Remscheid
12.11.2014
Workshop SCHEINWORKS construction
Sign up
München
05. - 06.12.2014
22. Internationales Symposium für Fußchirurgie
News archive (25)

News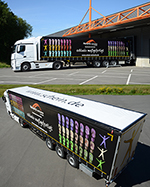 04.09.2014
NovaPED exclusive - Advertising in large format
Two new lorry semi-trailers that have been on the road for a few weeks are a real "eye-catcher" in road traffic. On a 42 m² surface area, they present our NovaPED exclusive sandals. The individually tailor-produced NovaPED exclusives can be seen in 48 different colour combinations. With this initiative, we would like to support you in advertising for the NovaPED exclusive sandals. A real eye-catcher on the streets.

NovaPED exclusive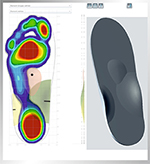 01.07.2014
SCHEINWORKS construction - New functions and construction aids
Based on a JPG file in the form of a foot scan, a foot pressure measurement, a scanned blue print or foot impression foam, you can design NovaPED active custom insoles and customised NovaPED exclusive thong sandals in a completely web-based manner.

As part of OTWorld in Leipzig, new functions and construction aids of the software were presented. The bases for NovaPED active can vary in their strength and notches, for example for a heel spur, can also be constructed. Construction was simplified due to such factors as the opportunity to use a screen with an indication of the measurements. In addition, an automated smoothing function for a smoother surface was integrated.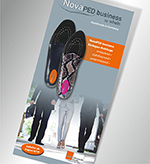 01.07.2014
NovaPED business - New look and new forms
Even at work, a heavy load is placed on our feet every day. To prevent overload damage or reduce already existing complaints, we developed the NovaPED business insole blanks specially for business shoes for ladies and men. Application examples: splayfoot, talipes valgus, metatarsalgia, light hollow foot.
The NovaPED business insoles are high-quality plastic blanks manufactured in the tried-and-tested film technology. With their shape and their very small design height, they are adapted to current shoe fashion. Thus, business shoes and insoles can form an optimally functioning unit.
The NovaPED business insoles can be reworked for individual tailoring.

View Collection

Download our NovaPED business Flyer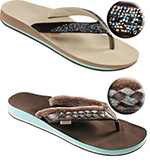 01.07.2014
NovaPED exclusive MADE WITH SWAROVSKI® ELEMENTS
Our thong sandals are becoming even more exclusive this summer: As a new extra, we are offering our uppers refined with SWAROVSKI® ELEMENTS. Here, you can either select the extra SWAROVSKI® ELEMENTS "Fine Rocks" - where the SWAROVSKI® stones are applied directly to the suede - or you can opt for a braid combination with the SWAROVSKI® ELEMENTS "Crystal Fabric". The sportier types can also choose a braid combination made of two smooth leathers. As always, individuality for your feet - you choose!



NovaPED exclusive

Download our NovaPED exclusive Flyer