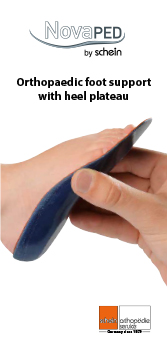 NovaPED Shell insoles with heel plateau
NovaPED shell insole blanks are designed to correct abnormal foot positions. In order to achieve the desired treatment result, it is important that shoe and insole form a unit to guide the foot as effectively as possible.
Thanks to the heel rounding and the shell-shaped design, an optimal fit is achieved for the foot. This supports the redistribution of pressure and ensures the desired treatment result while also providing a high level of comfort.
The new heel plateau on the underside with its enlarged contact surface ensures greater stability. At the same time, the power transmission of the insole to the shoe floor is increased. The arch structures are effectively supported and the lower ankle joint is additionally stabilised. The heel plateau also has an integrated raised edge that supports natural walking.
more information